One of the newest advances in beauty products is the airbrush foundation. This technique has become increasingly popular as it provides a light, natural-looking application of liquid or cream foundations to the skin.
It is basically a foundation that is sprayed on the skin rather than rubbed or applied using a brush or a sponge. Airbrush application should be done using only the best airbrush foundation brands to have the desired flawless look.
An airbrush gun is powered by a compressor that blows the foundation and through a medical grade hose for controllable application. The flow could be adjusted for heavier, lighter and more dramatic makeup looks. It can be used to apply foundation to the face or different body parts easily and in no time.
Top 10 Best Airbrush Foundation Reviews
We have tested airbrush foundation brands on the market to find which one is the best airbrush foundation. In this article, we will tell you our honest thoughts about these different types of foundations and why you should buy one of them for a flawless and perfect makeup look every time.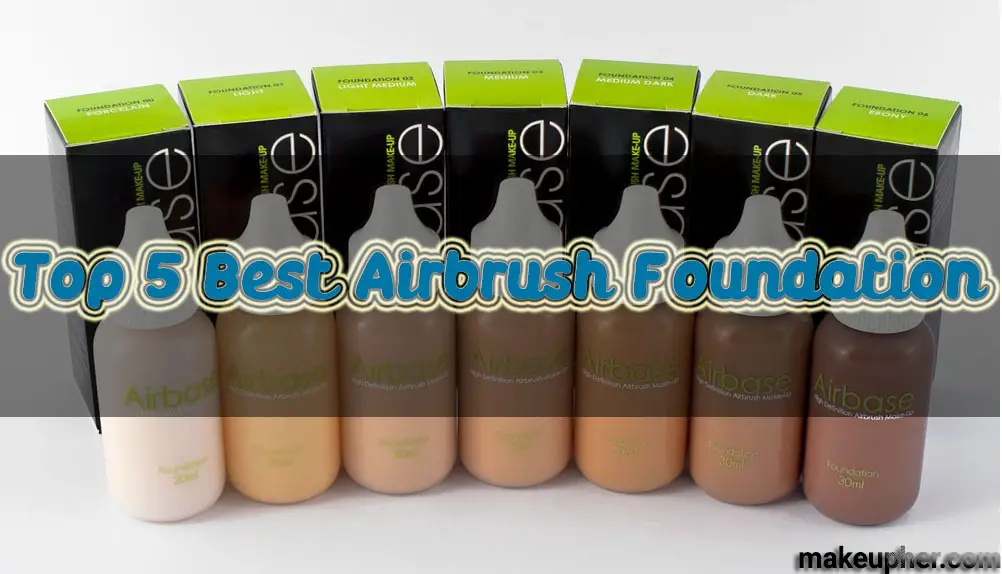 Luminess Air Airbrush Ultra Foundation
This dewy finish foundation is hypoallergenic and is made so that it doesn't clog the pores. It is one of the best airbrush foundation brands available for sensitive skin.
Product Features Comes in 12 Different Shades:  This foundation comes in 12 different shades to suit every skin color and undertone. It's important to test the foundation on your face before deciding to buy it.
Before you purchase a foundation, try it on your skin in different settings to see how it looks.
It is Non-comedogenic: This particular foundation won't clog your pores and will not cause skin breakouts even if you wear it every day. It is long-lasting and will stay put for up to 18 hours.
It is Water-based: This foundation is light, perfect for everyday use. It doesn't contain parabens or oils and alcohol, making it the best everyday option on a hot summer day when you need to look good but don't want to sweat.
It Hasn't Been Tested on Animals: It is important to mention that no animals had to go through painful medical procedures to give you this beautiful foundation.
Photo Finish Professional Airbrush Foundation
If you are looking for a rush foundation conn, maybe this one is what you are looking for:
Product Features Comes in 21 Different Shades: 

This foundation is designed to accentuate your natural beauty and provide an even complexion. The range of shades will ensure that you'll get the perfect color for any skin tone or undertones, leaving a flawless finish on your face without blotchiness.

It Will Last for 24 Hours:

This foundation is the best to use for big events where there will be no time or space for touchups. It will last for 24 hours without running or smearing. By the end of the day, you will see that it still looks as fresh as it did long hours ago.
It is Hypoallergenic:  This water-based foundation is light on the skin and is gentle. It can be applied every day without irritating your complexion or causing breakouts, so it's suitable for sensitive skin as well. It doesn't contain harmful parabens or alcohol, and it won't over-drain your skin after hours of wear.

Highly versatile:

  One of the best aspects of this foundation is its versatility; it can be sheered out for light coverage or applied repeatedly to get full, even coverage.
Dinair Airbrush Makeup Foundation
The best liquid airbrush foundation is supposed to provide an even and flawless look with no smearing or blotching. We chose this foundation because this is exactly what it does:
Sheer to Light Coverage:

 This foundation is designed to provide sheer to light coverage for everyday wear.

Water Resistant:

This foundation is nontransferable and water-resistant, so it will last for 18 hours in even the hottest weather. It won't gather into fine lines or stick to dry patches, so you'll need no touchups with this amazing product.
Easy to Use: This foundation works perfectly with all airbrush makeup kits

All skin Types:

 This foundation is suitable for all skin types and contains no parabens or alcohol
Maybelline Dream Liquid Mousse Airbrush Foundation
Airbrush foundations are meant to provide a streak-free and even look. That is why they should have a light blendable formula:
Blendable and Buildable:

  This foundation is very blendable and can be built to full coverage. The finish feels totally flawless but still looks incredibly natural. The light formula allows it to finish into a natural finish without being cakey or heavy.

Different Shades: 

This beautiful foundation comes in 12 different shades to suit all shades of skin tones.
The Right Formula: This foundation is perfect for normal skin. The blend of moisturizing formulas and oil control formulas means that the makeup will last even after 18 hours of wear, appearing as if it had just been applied to your skin.
Art of Air Airbrush Makeup
This is probably one of the best airbrush foundation brands because it is mineral based and will last for a very long time:
Long Wearing Makeup:

The oil-based mineral foundation is a long-wearing, permanent solution for your makeup needs.

Perfect Finish:

This foundation can be applied for a heavy look or sheered out for light coverage.
Perfect Shades: This foundation comes in 19 different shades to suit all skin colors.
Hypoallergenic and Fragrance Free: This foundation will not irritate your skin no matter how long you wear it. It will need no touchups and will stay perfect all day long.
Art of Air Professional Airbrush Cosmetic Makeup System / Fair
This is the best airbrush foundation for beginners and professionals. It comes with everything that you need in order to apply flawless makeup and have a fresh, polished look.
With this complete kit, you can create the perfect look for any occasion in minutes. The compressor system is versatile, going from sheer to full coverage in just a few turns of the dial.
Say goodbye to skin flaws and scars with this airbrush foundation kit. The anti-aging primer, which is designed for all skin types, creates the perfect canvas for your makeup application.
This primer perfectly conceals the imperfections allowing you to use less makeup. You also receive 6 different shades of fair and medium tones so you can create the perfect shade for your skin.
You can also play with the light and shade to contour your face. Because of the lightweight particles, your makeup will not sink into the pores or lines. You will have flawless makeup that lasts all day long. This hypoallergenic foundation is silicone-free and will not cause any breakouts.
This comprehensive kit comes with a highlighter, a blusher, and a shimmer. You can highlight the top of your cheekbones to help create the perfect bone structure.
Whether you are a professional makeup artist or simply want to wear excellent makeup for a special occasion, this is always the kit to pick.
The reliable compressor system is very easy to use, allowing you to have flawless makeup every single time. You also receive a cleaner to keep your system ready for use. It also comes with an elegant carrying bag so you can take it wherever you want to.
Tickled Pink Airbrush Kit with Medium Shades Makeup
This is great makeup for sensitive skin. The kit contains more than 89% organic water mixed with aloe juice for a gentle and flawless application. The compressor is designed for home users because it is easy to use. Thanks to this versatile and high-quality kit, you can get a professional look at the comfort of your home.
The compressor is very quiet, reliable and customizable. It is lightweight so you can use it to create a complete look without feeling any pain or muscle strain. All you have is to turn it on and it will start working instantly. You get to choose between 3 different output pressures to create the makeup look you've always wanted.
People love how lightweight and comfortable this airbrush foundation is. You receive 3 foundation shades to create the perfect match for your skin tone. The foundation is unique because it contains useful antioxidants that are actually good for your skin.
You won't feel like wearing a mask on top of your face; only your skin but better. It comes with a blusher that will give your face a natural and lovable glow. The best thing about this makeup kit is that it comes with a waterproof sealant. This will keep your makeup stable throughout the day and in different weather conditions. It is the perfect airbrush makeup kit for everyday applications and special events. This is cruelty-free makeup which a big bonus.
Belloccio Medium Color Shades Airbrush Makeup Foundation Set
Applying your makeup doesn't have to be a difficult job. Thanks to this makeup kit and foundation set, you will be able to apply your makeup like a pro. You receive 4 shades that can be easily mixed. By mixing and matching, you will easily get the perfect shade that matches your skin.
The formula is water-based and can be applied in various sheer layers. You can go from sheer to full coverage easily.
The foundation is made with natural ingredients that make it almost weightless. You can wear it all day long without feeling like you have something on top of your skin. It has been tested by dermatologists who recommend it to anyone who wants to conceal their skin imperfections and still have healthy-looking skin. The airbrush foundation is non-comedogenic, silicone, Paraben and fragrance-free.
You can create a complete makeup look using this kit. You can easily use darker shades to contour your facial features for a polished and sophisticated look. It also comes with a blusher for a natural glow. It comes with a moisturizing anti-aging primer that will erase the wrinkles and the fine lines off your face for a perfect and easy makeup application.
This foundation doesn't settle into your pores or lines so it doesn't accentuate your imperfections. It is perfect for acne-prone, dry and sensitive skin. It will conceal them without creating an artificial layer on your skin.
Christian Dior Skin Airflash Spray Foundation 300
Have you ever looked at models' photos and wished if you could have perfect skin like theirs? This skin can be achieved using a lot of photoshop and the right products. This foundation creates the same photoshop effect with a few pumps. Now, you can have a look you've always dreamt of in a few minutes.
The foundation you receive is designed to give you an airbrush effect without actually having to use an airbrush kit. A lot of users consider it to be the best airbrush foundation because it is lightweight and manageable. It evens out the skin tone and visibly improves the look of your fine lines and wrinkles.
A few pumps will create a silky film over your face that will last all day. It works for dry and sensitive skin. It will not cling to the dry patches on your skin or make them more visible. As a matter of fact, it is so lightweight yet creamy enough to moisturize your skin while creating the perfect look.
A few light sprays are enough to cover your whole face. You can blend the foundation with your regular foundation or stippling brush. You can also use it with a sponge or a beauty blender to create the perfect look.
Aeroblend Airbrush Makeup Mini Sets (Light/Med)
This makeup kit comes with everything that you need to create a professional look. Each set comes with 8 natural-looking shades that you can mix for the perfect shade. The foundation is water-based and is very lightweight. It gives a natural matte finish.
The best thing about this foundation kit is that it is perfect for beginners and people who are not very sure about creating the perfect shade. It comes with a complete, easy-to-follow guide to help you mix various colors. The shades are based on real skin tone colors and will not look artificial because the foundation applies evenly. It is highly pigmented.
Only a few drops are enough to cover the whole face with a perfect layer that will cover moles, birthmarks, hyperpigmentation, and discoloration. It works with any airbrush equipment you have. The makeup is longer and doesn't oxidize. It doesn't get darker throughout the day, and you will always look fresh.
The foundation contains soothing and natural ingredients like jojoba and lavender oil. It is perfect for all skin types, including sensitive and acne-prone skin. It doesn't contain any skin irritants like Paraben or silicone and this means that you can safely wear it all day long. It is almost weightless and extremely hydrating and this is why a lot of people prefer wearing it on a daily basis.
Lightweight and natural foundation.
Water-based foundation that is perfect for sensitive skin.
Different shades to get the perfect match.
Longwear and doesn't oxidize or get darker.
Free from skin irritants.
[/joomdev-wpc-pros][joomdev-wpc-cons]
It has to be shaken well every now and then because it tends to separate
How to Dilute the Foundation for Airbrush?
The best airbrush foundation is one that you dilute to the right consistency with water or a mixture of water and old powder. This will give you perfect coverage for your skin without ever having to worry about it being too light in color. You'll also save some money by not buying another bottle!
So, I mixed my old powder with water until it was diluted enough for me to use in my airbrush. It's important when using an airbrush because if the makeup isn't blended properly, then there are going to be streaks on your face–which sounds like no fun at all! When I spray this onto my face now, I know that it's going to blend out well so as long as I do what needs.
How to Apply the Airbrush Foundations?
If you want to use an airbrush, it's important that your makeup is blended well before applying.
Apply foundation with a beauty blender or brush in circular movements for even coverage.
Don't forget the neck and jawline! They are often neglected but just as essential to achieving flawless skin tone.
Prime base by spraying primer from an airbrush onto targeted areas of the face like cheekbones and forehead.
Spray over the top of makeup with a foundation airbrush to set it.
You can also use an airbrush for concealer or powder!
​How Do I Prepare My Skin for Airbrush Makeup?
It's important to take care of your skin before applying airbrush makeup.
Cleanse and moisturize the night before with products that are suitable for your skin type, be it dry or oily.
If you have any breakouts on your face, then use a clay mask in order to shrink the pores overnight so they're less noticeable when applied makeup comes off those areas.
​Advantages to Using Airbrush Makeup
Airbrush makeup is perfect for a number of reasons.
It's airbrushed on so it doesn't cause any clumping or caking, even if you're applying concealer over wet mascara.
Airbrush foundation provides the most natural finish to your skin because there isn't anything that binds with your face like brush hairs can do when applied through a foam or liquid form.
You have total control over the product and how much coverage you want in targeted areas of your face by adjusting the pressure at which you spray from an airbrush gun onto your skin. If all you need is some extra moisture, then go light! And vice versa if low coverage is what will suffice.
​Water-based Vs. Silicone Based Airbrush Foundations
A water base is for people with dry skin. It's thicker than silicone and won't soak into your pores, which results in a matte finish that'll last all day.
If you have oily skin go silicone-based because it will give you the most natural-looking finish without clinging to any of those pesky pores or causing breakouts like other foundations can do if they're too heavy duty on your face.
If you're going to be on camera, silicone is a better option because the foundation won't run off your face and onto clothes like it would with water-based products.
Water-based foundations are easier to blend than silicone, but if you have dry skin then this may not matter as much since these types of foundations will soak into your pores anyways.
How to Choose the Best Air Brush Foundation?
There are a lot of things to consider when you are shopping for the best airbrush foundation. In this article, we will highlight the most important points: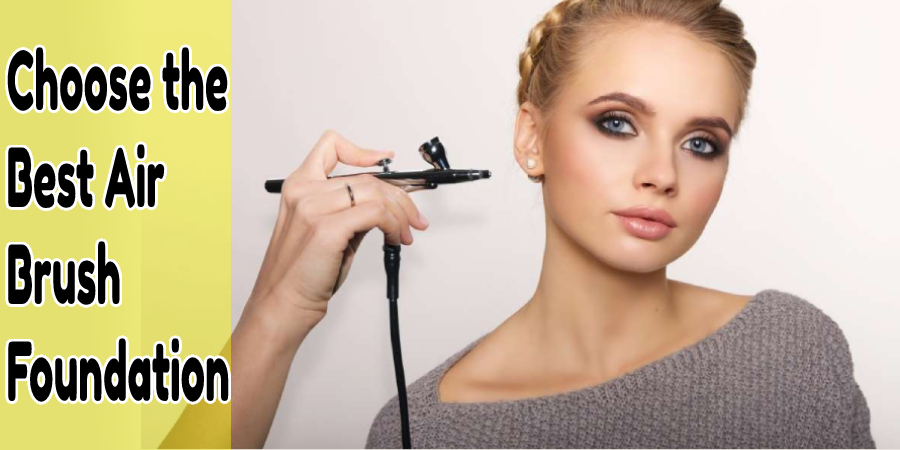 Brand Research:
It is important to do some research before you buy a foundation. Make sure that you are buying a product that is produced by a reputable company. Don't buy anything that doesn't have a label or a clear list of ingredients. You must read this before applying any makeup to make sure that you are not allergic to any of the ingredients used.
Also, see if the company's policies work for you. Some companies vow not to test their makeup products on any animals. If you are a nature lover, this will be very important. Make sure that your foundation is clinically approved and tested.
People usually provide honest reviews when it comes to the products they use every day. There are a lot of brands that claim that they offer the best airbrush foundation. Go through the reviews and make sure that they are not made up.
Pay Attention to Reviews:
People usually provide their honest reviews when it comes to the products they use every day. There are a lot of brands that claim that they offer the best airbrush foundation. Go through the reviews and make sure that they are not made up.
Try the Foundation Yourself:
People have different preferences or expectations of what their foundation should look like. Consider your main skin and makeup issues and look for a foundation that is specially made to address them.
If you are looking for a natural look, then you are better off buying an airbrush foundation that has medium to light coverage. If you are into a more dramatic and flawless look, then choose a foundation that is full coverage to conceal all the problematic areas.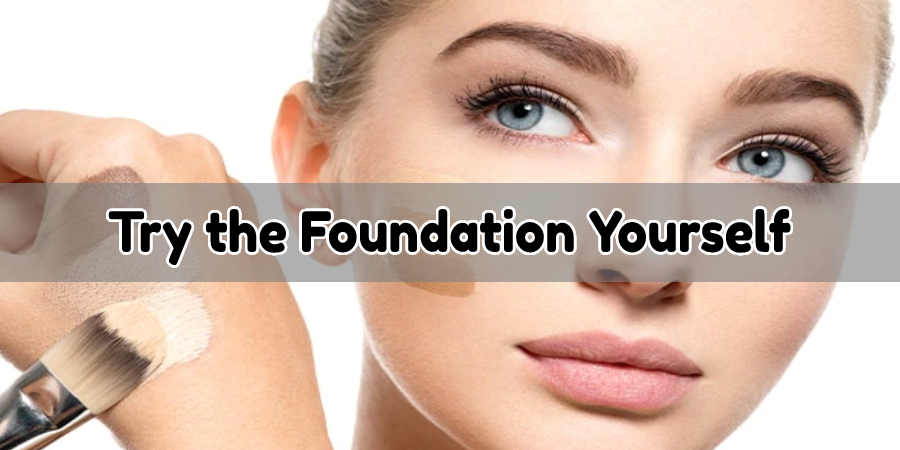 Remember that foundations come in different finishes. The airbrush application will make the foundation application easy but will not change the finish. If you are not comfortable with a dewy satin finish, then you can opt for a matt foundation.It is always best to try the foundation on your skin, exactly how you would wear it before you make a purchase. In this case, a brand with an easy return and refund policy will be a big plus.
Choose the Right Shade:
Even the best airbrush foundation will look bad if you don't buy the right shade. Make sure that you try the foundation on the bottom side of your cheek, where your chin meets your neck. This area is wide enough to see how the foundation will look. Look at your face from different angles and in different lights to see the final result.
Airbrush foundation application is great for even coverage and reducing the need to try a new shade. If you have a fake tan, then make sure that your face matches your tan color. There is nothing worse than a face that looks lighter or darker than the adjacent neck. If you can't find the right shade, don't be scared to mix and match until you find what is best for you.
Test the Foundation with the Airbrush Gun:
It is always best to use the airbrush gun offered with the particular brand of foundation you are interested in buying. But if you already have the equipment and just looking for a refill, then you must use it to see if they perfectly work together.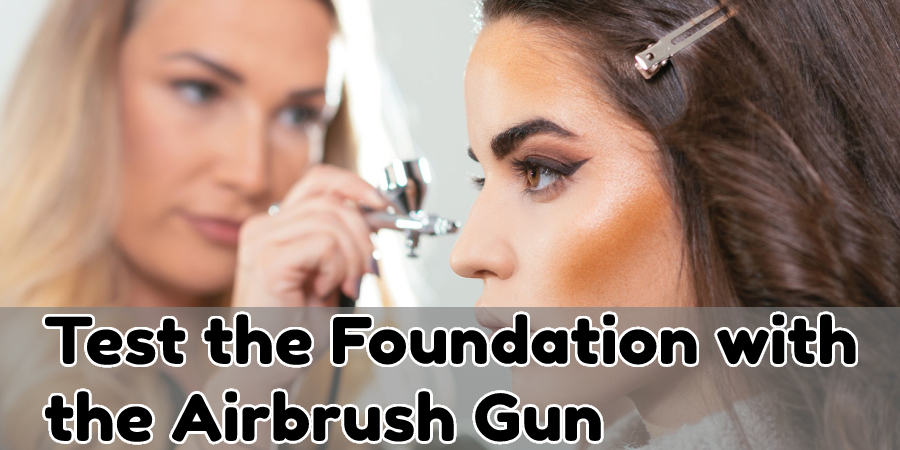 Avoid Caking by Applying thin Layers:
With foundation, less is usually more. And the best airbrush foundation brands are designed to avoid caking, which can ruin even the most perfect makeup look. Always apply one thin layer at a time. Avoid unnecessary over application. Only apply extra layers on the areas that require so.
Practice the Foundation Application:
Applying an airbrush foundation is not hard, but it requires some practice. Use a light hand to apply the foundation. Always put some kind of protection on your hair and clothes as you might be spaying it all-around at the beginning. Hold the applicator 4 to 6 inches away from your face and spray evenly. Wait until it dries and see if you need to apply another layer.
Final Verdict:
Going through the best airbrush foundation reviews, we decided that we have a winner. The Dinair Airbrush Makeup Foundation is by far the best choice. It provides the most flawless look with the perfect finish. It even rubs and water-resistant and won't transfer to your clothes. It sets on contact without powder for a classic look that will last all day.
Our Winner Foundation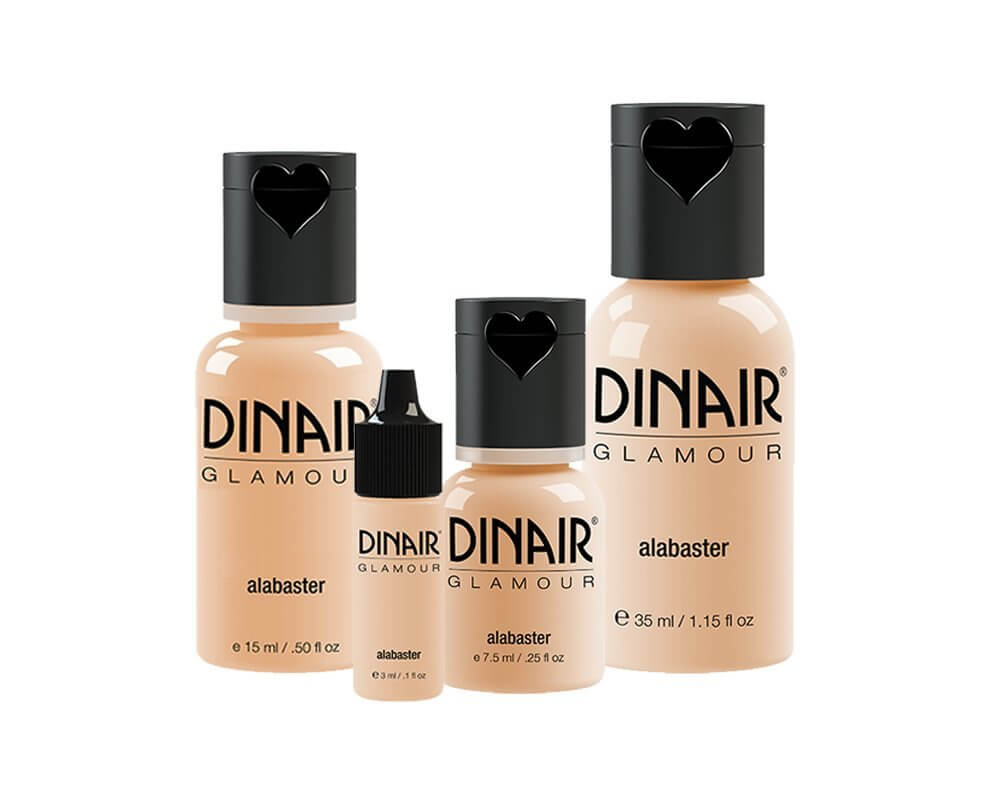 BUY IT NOW!