Introduction:
The world of makeup and beauty products is always busy with introducing the best and most advanced technologies. Airbrush foundation is one of the latest techniques to apply foundation to the face and the body. It is basically a foundation that is sprayed on the skin rather than rubbed or applied using a brush or a sponge. Airbrush application should be done using only the best airbrush foundation brands to have the desired flawless look.
An airbrush gun is characterized by a compressor that has the power to blow the foundation for controllable and even application through a medical graded hose, since medical devices need a lot more care and even silicone coatings sometimes, to make them more safe and clean. The flow could be adjusted for heavier, lighter and more dramatic make up looks. It can be used to apply foundation to the face or different body parts easily and in no time.
[toc]
How to choose the best air brush foundation

?

There are a lot of things to consider when you are shopping for the best airbrush foundation. In this article we will highlight the most important points:

1
Brand Research:
It is important to do some research before you buy foundation. Make sure that you are buying a product that is produced by a reputable company. Don't buy anything that doesn't have a label or a clear list of ingredients. You must read this before applying any make up to make sure that you are not allergic to any of the ingredients used. Also see if the company's policies work for you. Some companies vow not to test their makeup products on any animals. If you are a nature lover this will be very important. Make sure that your foundation is clinically approved and tested.
2
Pay Attention to Reviews:
People usually provide their honest reviews when it comes to the products they use every day. There are a lot of brands that claim that they offer the best airbrush foundation. Go through the reviews and make sure that they are not made up.
3
Try the Foundation Yourself:
People have different preferences or expectations to what their foundation should look like. Consider your main skin and makeup issues and look for a foundation that is specially made to address them. If you are looking for a natural look, then you are better off buying an airbrush foundation that has a medium to light coverage. If you are into a more dramatic and flawless look, then choose a foundation that is full coverage to conceal all the problematic areas.
Remember that foundations come in different finishes. The airbrush application will make the foundation application easy but will not change the finish. If you are not comfortable with a dewy satin finish then you can opt for a matt foundation. It is always best to try the foundation on your skin, exactly how you would wear it before you make a purchase. In this case, a brand with an easy return and refund policy will be a big plus.
4
Choose the right shade:
Even the best airbrush foundation will look bad if you don't buy the right shade. Make sure that you try the foundation on the bottom side of your cheek, where your chin meets your neck. This area is wide enough to see how the foundation will look. Look at your face from different angles and in different lights to see the final result.
Airbrush application will even out the foundation but will not fix the shade problem. If you have a fake tan, then make sure that your face matches your tan color. There is nothing worse than a face that looks lighter or darker than the adjacent neck. If you can't find the right shade, don't be scared to mix and match, until you find what is best for you.
5
Test the foundation with the airbrush gun:
It is always best to use the airbrush gun offered with the particular brand of foundation you are interested in buying. But if you already have the equipment and just looking for a refill, then you must use it to see if they perfectly work together.
6
Avoid caking by applying thin layers:
With foundation, less is usually more. And the best airbrush foundation brands are designed to avoid caking which can ruin even the most perfect make up look. Always apply one thin layer at a time. Avoid unnecessary over application. Only apply extra layers on the areas that require so.
7
Practice the foundation application:
Applying airbrush foundation is not hard but it requires some practice. Use a light hand to apply the foundation. Always put some kind of protection on your hair and clothes as you might be spaying it all around at the beginning. Hold the applicator 4 to 6 inches away from your face and spray evenly. Wait until it dries and see if you need to apply another layer.
The Best airbrush foundation Reviews (Top 10):
We have tested best airbrush foundation brands available on the market. In this section, we are providing our honest and unbiased opinion to help you chose the best airbrush foundation to get a flawless and perfect makeup look every time. Here are the best airbrush foundation reviews: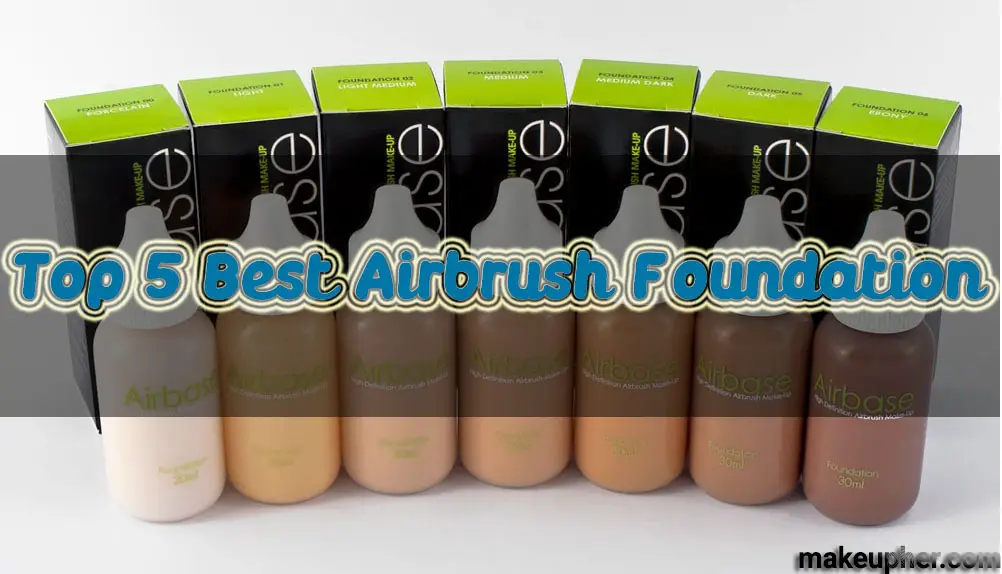 Luminess Air Airbrush Ultra Foundation
This dewy finish foundation is hypoallergenic and is made so that it doesn't clog the pores. It is the one of the best airbrush foundation brands available for sensitive skin:

Free shipping
Last update was in: July 12, 2020 8:45 am
Product features :
Pros:
Cons:
Photo Finish Professional Airbrush Foundation
If you are looking for a rush foundation conn, maybe this one is what you are looking for:

Last update was in: July 12, 2020 8:45 am
Product features :
Pros:
Cons:
Dinair Airbrush Makeup Foundation
Best liquid airbrush foundation is supposed to provide even and flawless look with no smearing or blotching. We chose this foundation because this is exactly what it does:

Last update was in: July 12, 2020 8:45 am
Product features :